Services
A variety of services are available at Ito-Yokado stores. You can read FAQ from customers from here.  FAQ
Seven Bank ATM

ATM
Ito-Yokado has ATMs that accept non-Japanese bank cards. If your bank or credit card has the following logo, you can withdraw Japanese yen directly from our ATM.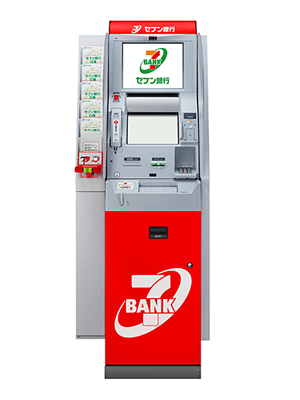 Language options of Seven Bank ATM
Japanese, English, simplified Chinese, traditional Chinese, Korean, Thai, Malay, Indonesian, Vietnamese, French, German, Portuguese
Cards accepted by Seven Bank ATM










Recharging of prepaid transportation IC cards
You can recharge your prepaid transportation IC cards, such as Suica and PASMO, at Seven Bank's ATMs.
---
Flexible Payment
The following credit cards, including the China Union Pay card, are accepted at Ito-Yokado.

Cards accepted at Ito-Yokado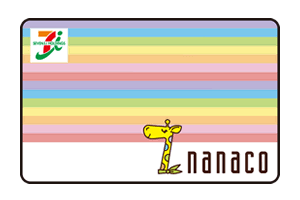 nanaco - your loyalty-prepaid card (electronic money)
By loading your card in advance, you can make payments by conveniently waving the card over the card reader at the cashier, eliminating the need to search for small changes. You can also gain "nanaco points" by purchasing with a nanaco card. Please apply for a nanaco card at our group stores including 7-Eleven, Ito-Yokado and others.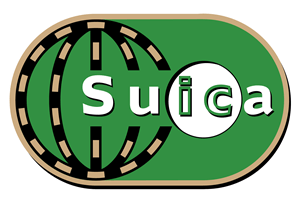 Suica, PASMO and others - prepaid transportation IC cards (electronic money)
You can also use prepaid transportation IC cards to make a purchase at Ito-Yokado. Usable cards include the following types.
* PiTaPa (for public transport facilities operated by the Osaka Municipal Transportation Bureau and others) cannot be used at our stores.
Suica (JR East), PASMO (Private railway companies in the Greater Tokyo Area)
Kitaca (JR Hokkaido), TOICA (JR Tokai), manaca(Transportation Bureau City of Nagoya, Meitetsu etc.), ICOCA (JR West), SUGOCA (JR Kyushu), nimoca (Nishi-Nippon Railroad), HAYAKAKEN (Fukuoka City Transportation Bureau)
---
Barrier Free

Wheelchairs

Baby strollers
Our stores have various facilities so that every customer including elderly and handicapped customers, expecting mothers and small children can enjoy shopping.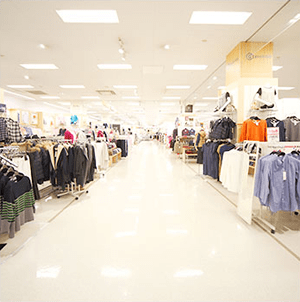 Multi-purpose toilet
Spacious independent toilet stall. The toilet also has a crib.
Spacious fitting room
A spacious fitting room with twice the size of an ordinary fitting room is large enough to accommodate a wheelchair or a baby stroller.
*Some stores do not have these facilities.
Family Friendly
Ito-Yokado has space especially designed for infants and children.
Spacious in-store environment
Because aisles are wide and shelves are low, our stores are safe and friendly for wheelchair and baby stroller users. Good visibility ensures that you will not get lost.
---
Family Friendly

Babies' resting area
Ito-Yokado has space especially made for infants and children.
Babies' rest area
For customers with small children, the stores have a breast feeding room, diaper changing tables, a height-measuring gauge, weight scale and hot water for baby formula.
* Some stores do not have these facilities.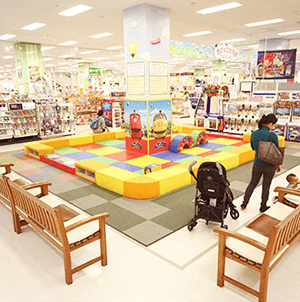 Nakayoshi Space (Friendship Space)
It is a play area for children 6 and under. Their grandparents can also wait here while the parents are shopping. Please take off the shoes before entering the area. All children must be accompanied by adults.
Target age: from 2 to 6 years old
---
Comfortable environment

Smoking space

Lockers
Promoting the separation of non-smoking and smoking areas
As a measure against secondhand smoke, Ito-Yokado has only one smoking space at each store. The locations of the smoking spaces are set up with consideration for non-smokers.
* Some stores do not have these facilities.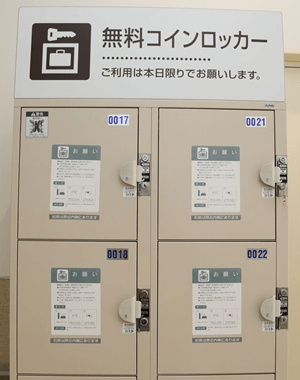 Free lockers for customers
There are lockers which you can use for free. Refrigerated lockers are also available, so that you can make use of the lockers after purchasing fresh food, and continue to shop.
* Some stores do not have these facilities.
Usage time limit: by closing time of the same day
---
Free Wi-Fi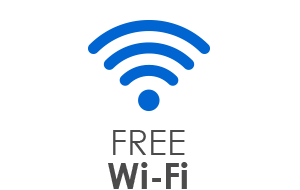 This service is currently unavailable.
---
FAQ
General
Q
I left something in the store.
A
If our staff finds your lost item, it will be kept in the store for a certain period of time. Please contact the store you visited.
---
Q
Is it OK to shop around the store while eating what I bought?
A
We ask our customers to refrain from eating or drinking while they are shopping out of consideration for other shoppers as well as for hygienic reasons.
---
Q
Are plastic shopping bags provided free of charge?
A
No, we charge a fee for shopping bags. The price depends on the kind of bag and its size.
---
Fashion
Q
A
We hem up ladies', men's and children's pants, jeans and slacks purchased at our store. For details, please ask our floor staff.
---
Q
Can I exchange items I purchased with another color or size?
A
You can exchange what you bought with another color or size provided that it is still unused. Please bring the item, receipt and your passport to the store where you purchased the item. We do not accept sanitary items like bed sheets or underwear or items that were purchased a long time ago.
---
Grocery
Q
How old do I have to be to purchase alcohol drinks?
A
The minimum legal age to purchase alcohol is 20 years old.
---
Q
Are preservatives and artificial coloring used in the food?
A
None of our cooked meals, Bento lunch boxes or sushi contain preservatives or artificial coloring.
---
Q
Do you sell genetically-modified foods?
A
We do not sell genetically-modified foods except for some items the Japanese government has permitted importing such as cooking oil.
---
Q
I am concerned about residual agricultural chemicals of vegetables.
A
Residual pesticides of all the fruits and vegetables at our stores are below legal limits.
---
Q
I am concerned about environmental hormones.
A
We have banned the use of polycarbonate food trays and containers which are said to release environmental hormones. We have also stopped selling polycarbonate teething rings and pacifiers.
---