Ito-Yokado's Safety Measures
February 25, 2021
In order to create a safe and secure shopping environment for local customers, Ito-Yokado will continuously take the following measures to prevent the spread of COVID-19.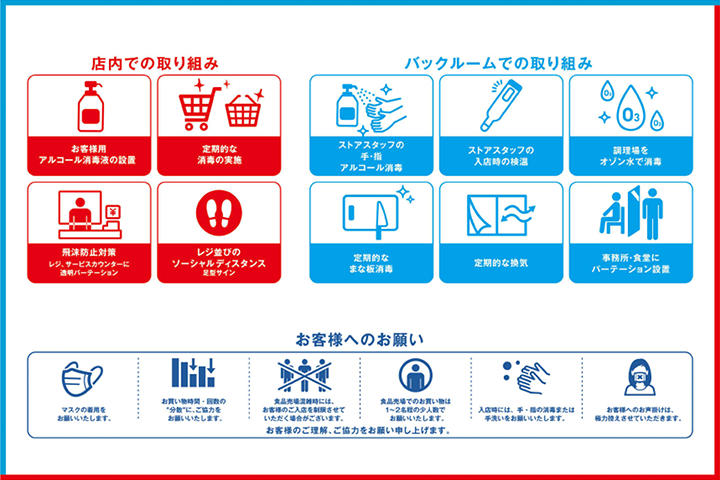 In-store Measures

Provide alcohol disinfectant solution for customers;
Disinfect regularly Installation of transparent film partitions at checkout counters;
Maintain social distance during payment (using footprint signs);
Storeroom Management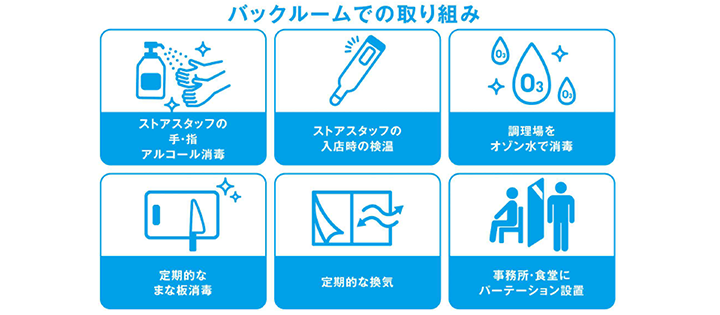 Staff disinfect hands regularly. Staff check body temperature before work
Use ozone disinfectant spray to sterilize the kitchen
Regularly disinfect cutting boards
Regularly ventilate indoor areas
Partitions are installed in offices and staff cafeterias
Your Cooperation to Keep Everyone Safe

Wear a mask
Space out shopping times to avoid crowds and reduce shopping frequency
Maintain 1~2 people in a group while shopping in the food section
Disinfect your hands when you enter the store
Staff will refrain from calling out to customers to prevent droplet infection
With the acceleration of the COVID-19 situation, Ito-Yokado will always make the "safety of our customers, employees and business partners" our first priority. We have set up a "safety counter" at the entrances of 35 Ito-Yokado stores, where we encourage customers to wash and disinfect their hands and measure their body temperature when they enter the store. In addition, we have also posted notices around the "safety counter" to introduce Ito-Yokado's efforts to prevent the spread of COVID-19. Ito-Yokado has also set up "priority checkout counters" to prevent the spread of COVID-19 and regularly disinfect the facilities in the stores. The counters are indicated as "priority cahier counters for the elderly and people in need", as shown on the left, and are available between 14:00~16:00. We will continue to take various measures to ensure that everyone can shop safely and without worry.
Installation of body temperature check device (as pictured) and alcohol disinfectant (as pictured). Customers can shop without worry.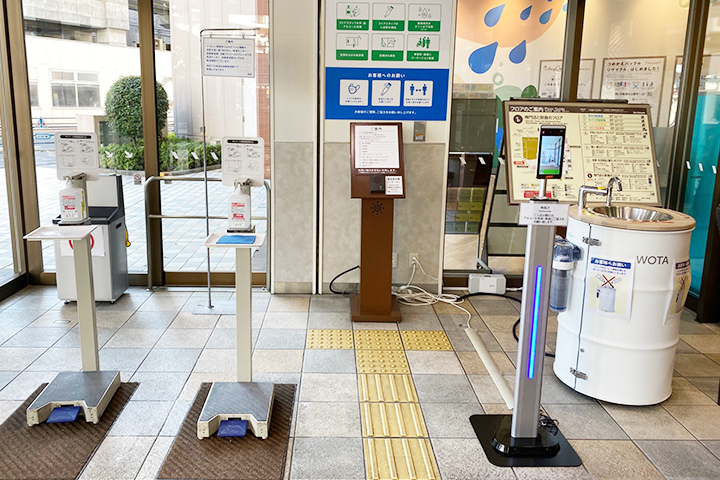 The entrance of the store is equipped with a portable wash basin, "WOSH", that does not require running water (as pictured). This is the first time that "WOSH" has been installed in mass merchandise and retail stores. Customers can shop without worry.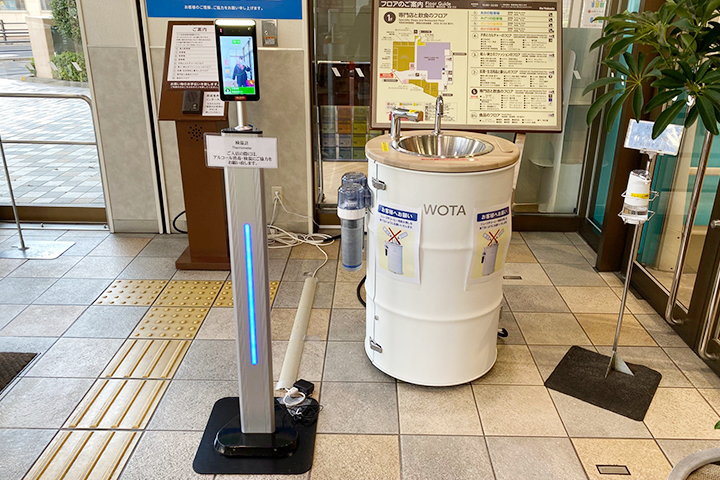 Ito-Yokado's store applied photocatalyst coating, which uses special materials for disinfection, in different places to control the spread of bacteria and viruses.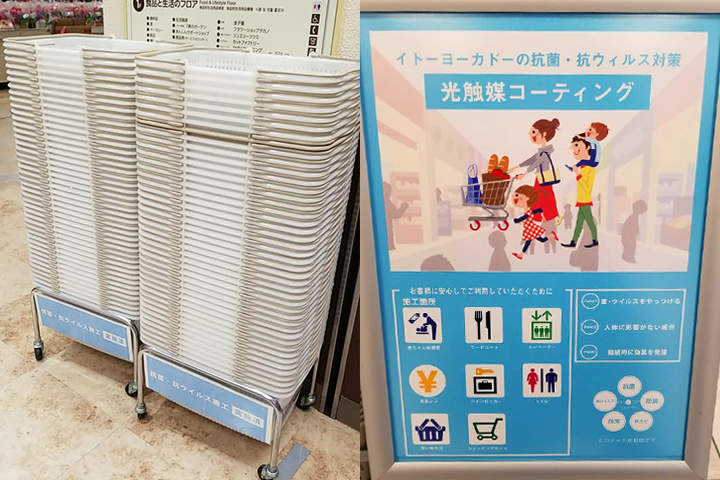 ※"Safety counter" and photocatalyst disinfection are currently implemented at some stores and will be expanded to all stores in the future
In order to avoid crowds and going out unnecessarily and, we recommend our contactless "online shopping" service. Our staff will place the goods at the entrance of your home to ensure contactless delivery. The delivery staff will ring the doorbell to notify the customer to pick up the goods after they leave.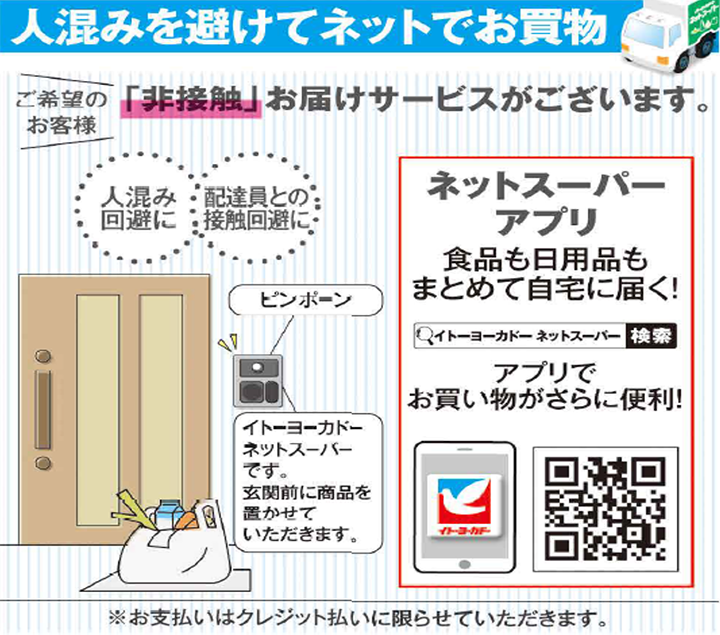 ※Due to the impact of the epidemic, product production and logistics, as well as the surge in demand for some products, the products on the store promotion leaflets may be out of stock or have purchase restrictions. Thank you for your understanding.
Thank you for your cooperation to help us to make the store environment safer and more secure for all the customers to enjoy shopping.
---
Ito-Yokado has a broad range of the latest products, popular and attention-grabbing items and
products made by major Japanese makers.
Cosmetics
KOSE (Sekkisui), Kanebo, Shiseido, Sofina, SK-II, FANCL, DHC, NIVEA
Drugs and Medical supplies
Takeda Pharmaceutical, Rohto, Tsumura, Santen Pharmaceuticalm, Kanebo, Ryukakusan, Wakamoto, Eisai, Chocola BB, Amino Collagen, Hakugen
Daily goods
Kao, Earth Chemical, Cow Brand Soap Kyoshinsha, Kai, P&G, Unicharm, Grocery and Beverages, Meiji, Glico (Pocky), Nestlé (KitKat), Lotte, Calbee, Koikeya, House Foods, Aohata, Kewpie, Kabaya, Mary Chocolate, Kikkoman, Nakamuraya, Imuraya Confectionery, Snow Brand Milk Products, Häagen-Dazs, Nissin Foods, ITO EN, Coca-Cola
Alcohol
Asahi Breweries, Kirin Brewery Company, Sapporo Brewery, Suntory, Nikka Whisky Distilling, Choya Umeshu
Kitchen items
Zojirushi Corporation, Tiger Corporation, Thermos L.L.C., KYOCERA
Sports goods
NIKE, adidas, Puma, ASICS, Dynamo
Toy
Tomica, Takara Tomy, Plarail, Nintendo
Fashion and Underwear
ATSUGI (ASTIGU), Samantha Thavasa, LACOSTE, Golden Bear, Edwin, Levi Strauss, Wacoal, Wing, Triumph, Fukusuke, Toray Industries
Watch
Citizen Holdings, Seiko
Stationery
KOKUYO, Tombow, Pentel, Showa Note (Japonika Practice Notebook)
Character goods
Pikachu, Yo-Kai Watch, One Piece, Doraemon, Rilakkuma, HELLO KITTY, My Melody, Little Twin Stars Kiki & Lala, Snoopy, Duffy, Frozen, Stitch, Mickey Mouse, Winnie-the-Pooh
Home electronics
Panasonic (nanoe), Toshiba, Hitachi, Sharp Corporation (Healsio), NEC, Fujitsu, Iris Ohyama, YA-MAN, ReFa CARAT
Living
Nishikawa Sangyo, Imabari Towel, Maruhachi, Bridgestone
---